Pabellona es un conjunto tipográfico de 3 fuentes experimentales, combinables entre si para crear textos policromados.La construcción de las letras que componen la tipografía Pabellona, en sus 3 variantes, se basa en la forma de un proyecto de trabajo de fuente redondeada extra bold, apoyada en referencias como Ghotam, Helvetica Round, Swiss Round, Vag Rounded y Debussy, a través de un proceso de deconstrucción realizada a partir de 5 cuadrados de tamaños diferentes (144, 89, 55, 34, 21) girados 55º, dispuestos de manera aleatoria a través de los bordes de las letras, para después, siguiendo un proceso de combinado y división de vectores obtengo las 3 formas, que pierden la forma original, que editaré más adelante, pero conservando toda su genética tipográfica, ahora, erosionada (Eroded font)por las líneas rectas inclinadas al menos en las variantes Símplex y Dúplex y generando una tercera tipografía (Tríplex) donde la ausencia de curvas es notable y se transforma en una Grunge font.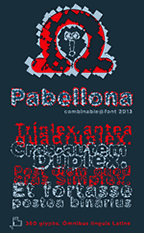 Como en mi anterior familia de fuentes combinables (d puntillas) la forma de uso, para conseguir títulos policromados, consiste en clonar las capas de un mismo texto y asignar a cada capa una de las tres fuentes, después el asunto del color es cosa vuestra. Los títulos conseguidos con la combinación de dos o tres de estas fuentes da como resultado un elemento gráfico importante y con personalidad propia para el diseño gráfico de carteles, posters, flyers, rótulos, etc.
Las fuentes disponen de 360 glifos, y son válidas para todos los idiomas europeos. Ómnibus linguis Latine.Si eres diseñador gráfico o creativo te agradezco que distribuyas mi trabajo tipográfico, del mismo modo si usas estas tipografías en algún trabajo de diseño gráfico y quieres que aparezca en este post junto a tu nombre, envíamelo. Puedes descargar las fuentes gratis para uso personal u obtener una licencia comercial. Saludos y gracias.
Esta fuente es gratis para uso personal y puedes distribuirla siempre que se nombre al autor y la web.
This font is free for personal use and you can distribute it, provided that the author's name and the web.
¿Te ha gustado la tipografía / You like this font? :)